Bake
 gluten free sourdough bread that makes you forget your food allergies.
Discover how to create your own wild ferment sourdough and bake bread your whole family will enjoy in as little as 20 minutes a day.
The real reason you are on this page is that you have almost given up on your quest to find the perfect gluten free sourdough. 
The

problem

is, if you can find it in a specialty food store, it's DENSE, it's SMALL, it's EXPENSIVE, and worst of all,
if you have any other allergies, you probably can't even eat it

without getting sick.

 
YOUR QUEST FOR THE 
PERFECT GLUTEN FREE SOURDOUGH LOAF

 THAT WORKS WITHIN YOUR ALLERGIES IS OVER.

 
Yes, It Really Is Possible!
In Gluten Free Sourdough School, you'll learn how to finally bake gluten free bread you can actually enjoy.
ENROLL NOW
INTRODUCING
Gluten Free Sourdough School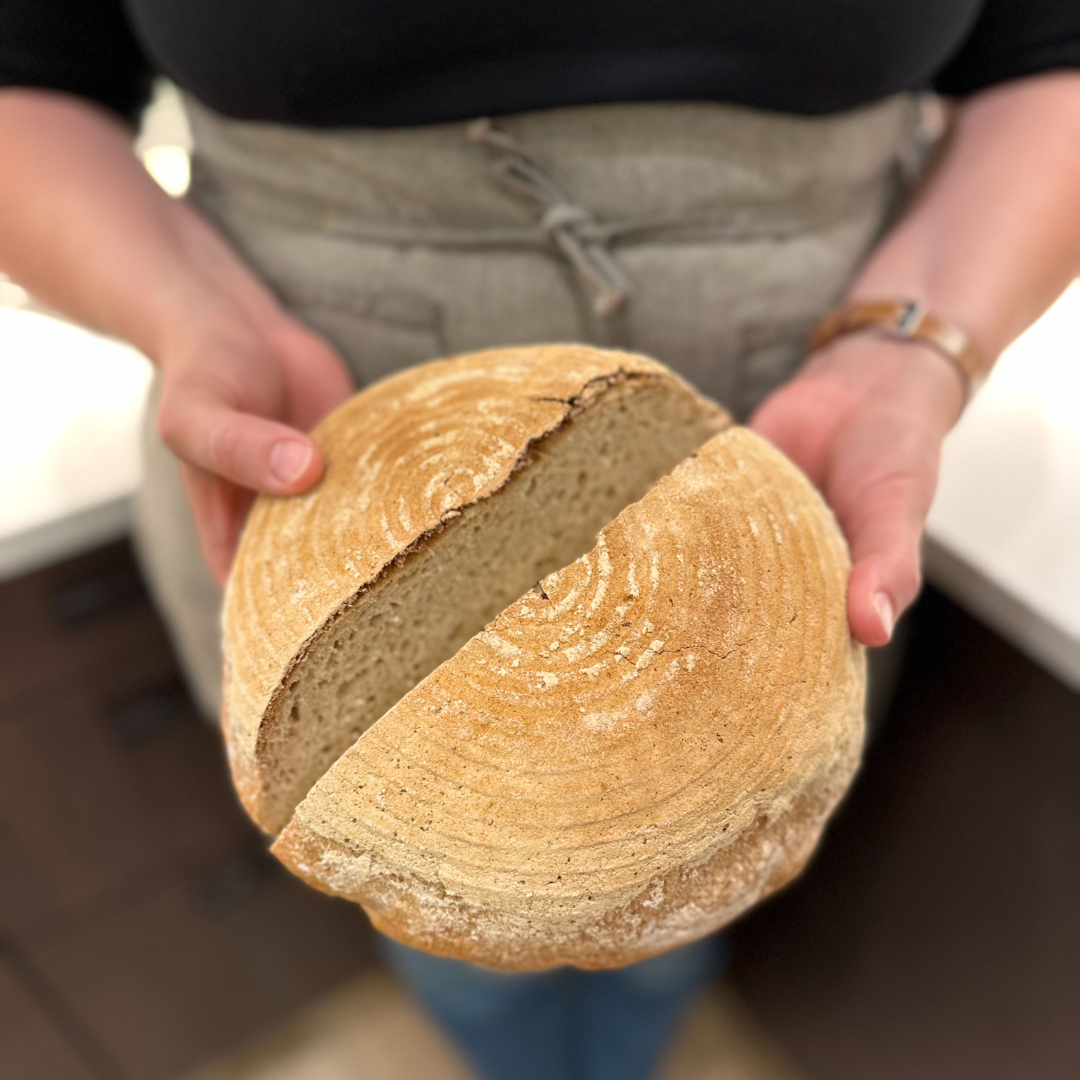 Are You Ready To Take Control of Your Gluten Free Bread?
This sourdough program will teach you everything you need to know to go from raw ingredients to fully risen and baked sourdough bread that works within your unique food allergies. You'll learn how to:
Create and maintain a wild ferment starter
Bake your own sourdough at home
Flavor your bread for whatever occasion
With a simple shift in your mindset and some time set aside, you could start baking the gluten free bread of your dreams.
What's Included In The Program...
MODULE 1
Sourdough Basics
Your starter is the basis of your sourdough bread. Learn how to create and maintain your own wild ferment, including:
Step by step daily instructions for creating your own starter with just water and flour in written and video form.
How to maintain a starter once formed
A troubleshooting guide for if and when things go awry
You'll finish this course with a complete picture of how to maintain a gluten free sourdough starter to keep on your counter or extend feedings in your fridge so it will be ready for you whenever you choose to make bread. 
MODULE 2
Sourdough School
With your starter in good shape, the next step is to bake your loaf of sourdough. In this lesson, you'll learn:
How to bake a traditional long ferment sourdough with no added yeast
How to bake a quick ferment sourdough that can be ready same day.
How to bake a New Dawn Bakery classic- Seeded Sourdough
How to bake an autumnal favorite-Pumpkin Sourdough
How to flavor your bread with additions
You'll finish this course with a full knowledge of how to bake many different kinds of sourdough based on the time frame and flavor profile you are looking for.
MODULE 3
Sourdough School Resources
The secret to baking good sourdough is in the simple tools you will need and then how to store your bread once baked. Included in this lesson is:
How to store your gluten free sourdough for best consistency and flavor retention
Kitchen essentials guide with clickable links for my favorite kitchen utensils
Printable E-book with all the sourdough recipes mentioned plus more
You'll finish this lesson with the knowledge of everything you need to get started in the kitchen baking and enjoying your own sourdough bread.
MODULE 4
Frequently Asked Questions
In this section, you'll learn the answers to many frequently asked questions including:
My bread didn't rise. What happened?
I don't have a stand mixer. Can I mix this by hand?
Can I substitute flours?
What's the best way to reheat bread?
Plus many many more!
You'll finish this section with an answer to all your questions should they arise.
Sourdough School Is For You If...
You are gluten intolerant, sensitive, or Celiac
You have multiple food allergies and find it hard to shop for food.
You are a home-baker that needs guided help
You dream of baking for yourself, your family, or your friends
You want real bread you can actually enjoy that won't fall apart or is tiny
YES, I WANT IN!
Why you can no longer afford to not bake…
I've heard all the excuses:
"I've got to be skilled in the kitchen to bake sourdough"
Plenty of skilled cooks don't bake and plenty of great bakers don't cook. Skills are acquired through practice.
"I don't have enough time to bake so I buy bread instead."
This is a matter of priorities- plenty of people buy bread simply because they don't know how to bake it themselves and plenty of people that seemingly don't have time will throw together a loaf of bread before bed and bake it off in the morning while they are getting ready for the day.
"I've got to have fancy equipment to bake sourdough."
Sourdough has been made since ancient times and while certain kitchen utensils make it easier, they aren't necessary.
"Maintaining a starter feels complicated and like a huge commitment."
Maintaining a sourdough starter takes less time than brushing your teeth and can be left in the back of the fridge untouched for a week.
The right processes and recipes can make all the difference. We'll cover it all in Gluten Free Sourdough School.
NICE TO MEET YOU
I'm Katy Davis
After having my first daughter in 2010, we were both diagnosed gluten and dairy intolerant when she was just 7 months old. I wasn't sure what I could even eat, I lost 20 pounds, I was feeling frustrated, lonely, and mad at my body.
I bought a gluten free pancake mix that was dry and flavorless but thought, "hey, it's something." I started tweaking it and making it better. I learned how the different flours worked together and what substitutions I could use. The kitchen became my calm place.
Baking for myself and daughter turned to baking for friends, selling at farmers markets, and ultimately opening my own gluten free bakery in 2014.
Now I use what I've learned to help people just like you bake in their own kitchen. I'll show you how to incorporate baking sourdough into your life so your kitchen can become your calm place too.
I gave up on bread unless I was at a dedicated gluten free bakery. Which is how I was introduced to Katy and New Dawn Kitchen. They had their shop locally and I could grab a loaf of sourdough easily and enjoy it! 
When I found New Dawn and Katy online I was so excited and hoped she would share how to make gf sourdough, I've tried before but it's never worked out and I've never taken an actual class/course. So when she launched her course in August I jumped in! And I couldn't be happier! I've made 5+ loaves and I'm learning a ton! I've enjoyed bread again, and I love that Katy has made herself accessible to us with q&a calls, a Facebook group to ask questions and see what other students are making, she's been so great! She even took a recipe request I had and created a recipe for fall pumpkin sourdough😍 This course was worth the investment! Looking forward to learning more from her!
-Anna R
I made my first loaf last week. I did the quick rise sourdough loaf. It was beautiful and soft and moist! It wasn't dry and hard like the expensive ones you buy at the stores. Better than the gluten free bakeries even. It's such a gift to be able to enjoy delicious soft and great textured bread goods again!
-Judy B
I joined New Dawn Kitchens Gluten Free Sourdough Course as a total novice. With Katy's guidance, her professional tips, and tricks of the trade I made my first ever sourdough loaves. Her videos, cookbook details, email answers, Zoom Q & A, plus input and the experiences shared by the Facebook community members were all  instrumental to my successes in creating yummy goodness!!
It was fun even if I messing up. I enjoyed learning and improving my baking skills. I'm looking forward to taking Katy's future clases!! 
-Juliann M.
What's my investment into Gluten Free Sourdough School?
The mistake most people make is they think buying bread is cheaper and easier or that they can't do it themselves. What they don't take into account is how slow and limiting that can be.
Or worse...
..they go without bread because having it shipped is upwards of $30 a loaf, plus shipping, for a "normal" size loaf of bread or upwards of $10 from the grocery store for a tiny loaf that requires 4 slices to make a sandwich.
So next, people just say, "Okay, can you do it for me?"
Which is possible! You can hire a professional pastry chef and expect to pay $450 for an afternoon if they could work out a decent gluten free bread.
If you're like me, you want to take advantage of your own kitchen without the risk and without the cost. The only solution is to MASTER baking bread yourself.
This is your chance to learn from me, a professional gluten free baker, so you can skyrocket your learning curve in little time.
And you can master my ENTIRE Gluten Free Sourdough for just $197. 
Plus, I have a 30 Day, no-questions-asked Money-Back GUARANTEE!
30-DAY MONEY-BACK GUARANTEE
You deserve nothing but the best. I mean it.
I'm extremely proud of this program and I know anyone who buys it and implements the strategies will be thrilled with their purchase.
However, if you're not 100 % satisfied, I will refund your money within 30 days of your purchase. Scouts honor. This means, when you enroll, you'll have 30 days to go through everything in the program...  
And if you don't see any positive results from this training, simply show me that you've done the work and I'll refund your investment.
Why would I do this? Because you shouldn't have to pay for something that doesn't work! And I'm so convinced of how effective this is that I'm willing to put my money where my mouth is. That's how much I believe in Gluten Free Sourdough School.
Are my results guaranteed?
Can I share course info with a friend?
Enroll today and you'll also get access to these bonuses...
Bonus 1
Gluten Free Sourdough Printable E-Book
This printable e-book has the full starter guide, troubleshooting guide, all the basic sourdough recipes plus flavored bread recipes like Cranberry Walnut and Roast Garlic. This book also includes discard recipes so you can use up every last ounce of starter.
Bonus 2
Baking Basics 
This beginner video guide will teach the basics of how to use a scale, knead dough, and any other basics you will need to leave you feeling confident in the kitchen even if you have never stepped foot in one.
Bonus 3
Private Facebook Community just for GF Sourdough School
You will be able to ask questions or post successes with your fellow members. This will be an intimate group of like minded gluten free people. Questions and support will be answered by each other as well as me.
Bonus 4
Time Busting Guide
Think you don't have time to bake? In this video training I will teach how to bake while you sleep and my methods for baking once a week for an entire week.